Brand Spotlight: A Guide To Bramblecrest
2021-04-22
|
| View: 1712
Categories: How To Guides, Design Ideas
|
Tags: Cube Sets (59), Garden Dining (101), Parasols (106), Brands (116), Bramblecrest (117), Garden Storage (148), Dining Sets (170), Centre Pole Parasols (185), Bramblecrest (193), Parasols with LED Lights (201), Monterey (224), Oakridge (229), Patagonia (228), Ascot (227), Portofino (226), Tetbury (225)
|
By: JB Furniture
Brand Spotlight: A Guide To Bramblecrest
Bramblecrest has been a trusted supplier to JB Furniture for over 10 years during which time we've come to rely on the Cotswold-based company for a consistently high quality range of well-designed and sturdily-built outdoor furniture.
Established for over 20 years, and still under the same ownership, Bramblecrest has become synonymous with outdoor living. Their impressive range more than lives up to their strapline of providing 'garden furniture of distinction'.
This blog explains why we're proud to stock Bramblecrest outdoor furniture and demonstrates why it's the brand your garden deserves.
Why we're Bramblecrest stockists
JB Furniture is renowned for selling the very best brand of outdoor furniture and accessories. Our customers rely on us for curating style, high quality and durability on their behalf. Stocking Bramblecrest with its comprehensive collection of high quality furniture, is a no-brainer. We want our customers to have their finest teak, cast aluminium and rattan pieces for dining or lounging in the garden, whatever the season.
Let's take a closer look at how Bramblecrest meets our exacting criteria in 4 key ways:
1. You can spot the Bramblecrest design and style
Top of the list is Bramblecrest's attitude to design and style. This is what they say: "We believe the sophistication and style of the indoors should be reflected in your outdoor space without the compromise of indulgence or comfort."
Take their hanging egg chairs which, not surprisingly, were a huge success in 2020. So, for 2021, they've created the Triple Hanging Cocoon Egg Chair. In grey and sandstone - and JB Furniture is the first to receive stock of this new Bramblecrest product!
Comprising a stable, aluminium free-standing frame with smooth and weatherproof UV- resistant rattan weave, Bramblecrest's hanging egg cocoon chairs are an irresistible mix of fun and calm. Also available in single and double versions, so as 2021 is likely to be similarly 'challenging', we recommend you get your order in!
Meanwhile, the Portofino Adjustable Square Set with Ceramic Table is a typical example of Bramblecrest's effortless style. It seats 4-6 people on stools and sofa created in a mushroom rattan weave that contrasts beautifully with the dark grey of the aluminium frames. The table is adjustable to coffee or dining height (with griddle plate available separately).
2. Bramblecrest's well thought-out ranges
We pride ourselves on meeting the varying taste and outdoor vision of our customers and Bramblecrest helps us achieve this time after time. Take their Monterey Modular Sofa and Dining Table with Firepit.
Built out of durable garden rattan this particular model comprises a modular corner sofa and 2 benches to enable 8-10 people to dine comfortably and casually. The square ceramic table top is frost-resistant with a protective glass fire shield to cover the fire pit.
It does a great job; flexible, comfortable dining complete with built-in firepit. All that's left for you to do is provide the food and people.
3. Bramblecrest furniture is durable by design
The Bramblecrest team works with a variety of materials that are not only good-looking and comfortable but also used carefully and innovatively. Their furniture and accessories are resistant to frost and UV light, and can be left outside - uncovered - throughout the season. You'll find extensive care guidance on their website. 
Typically, tor this conscientious brand, Bramblecrest also offers a range of flexible covers as added protection from the dirt and muck created by animals, birds and the weather. They're super-useful in their adaptability across their ranges rather than any particular set of furniture. During the spring and summer for example, you can quickly throw a cover over your table and seating, including the cushions, keeping everything dry for immediate use.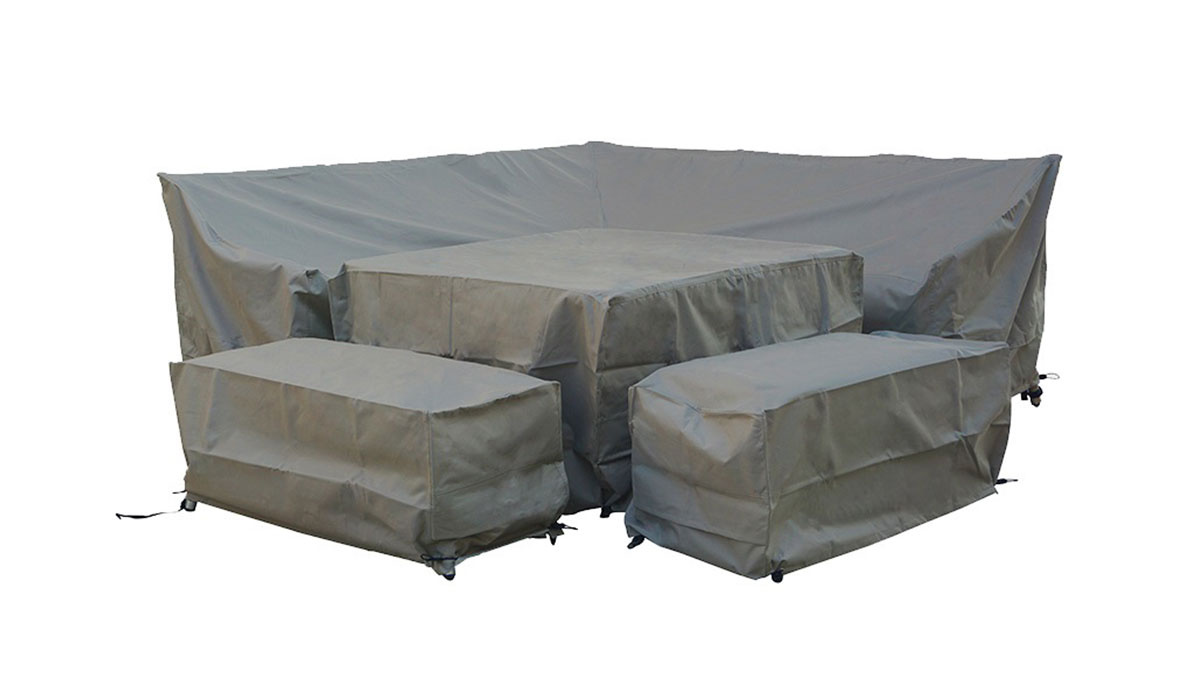 4. Bramblecrest's standards are high with great attention to detail
We find this statement by Bramblecrest on their website to be true:  "Our products are manufactured to the highest specification using innovative designs and responsibly sourced materials. We are all driven by the same high standards and values today from factory to customer with environmental concerns and awareness being fundamental to our beliefs."
We stock their Tree Free Mini Casual Sofa Dining Set. A modern take on a pure classic design, it features lightweight powder-coated aluminium frames and a durable wood-grain effect table top. As some of our customers avoid glass for safety reasons, this planked poly wood substitute using UV-resistant resin, is ideal. Finally, the cushion covers are made from recycled plastic bottles which makes this an attractive and somewhat niche dining set.
Bramblecrest is a brand that never fails to delight our customers
From the materials they use to the innovation they bring to each piece, the result is a constantly impressive range of garden furniture from Bramblecrest. Customer feedback and testimonials are positive and this includes our own experience as we always find the buying process to be easy and trouble-free.
We'll be happy to help you find your ideal Bramblecrest outdoor furniture range  for dining and lounging, including parasols, covers and storage.
Further Reading: