Sustainable Garden Furniture
Sustainable Garden Furniture
Sustainability is an important factor for many people when it comes to buying garden furniture. We as consumers want to know that we are protecting our ecosystem and helping preserve natural resources. 
As Summer is fast approaching many people are starting to think about buying new garden furniture. Your garden is a great way to escape everyday life and having the perfect outdoor furniture is important. You can have the perfect garden and still shop sustainably! Our suppliers have made changes to become greener and more conscious of the world around them.  
Bramblecrest:
Bramblecrest has been changing the way they work in order to become more sustainable. Consequently, they are bringing sustainability into every decision they make. They are proud to be a 'zero-to-landfill' company so all waste is disposed of in a responsible way. Any waste is either destroyed confidentially, recycled into new products or sent to a waste-to-energy plant to generate electricity.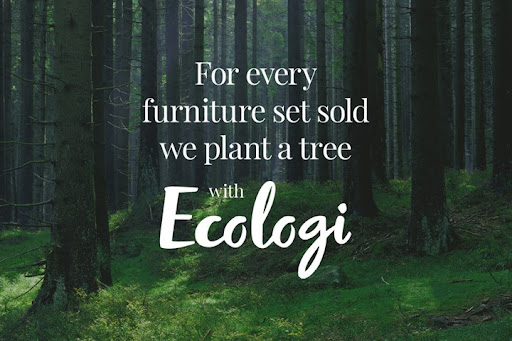 Bramblecrest are working with Ecologi in order to become more environmentally friendly. This means that for every furniture set sold they plant a tree with Ecologi. Through Ecologi they are supporting carbon offset projects and working towards a more sustainable environment for future generations.
Another great organisation Bramblecrest is partnered with is Planet Mark. Planet Mark is helping Bramblecrest understand their Co2 output and what they can do to reduce it. They are committed to reducing their carbon footprint year on year. Through Planet Mark they have protected an area of endangered rainforest! 
Their cushions are even made using an Eco fabric, the fabric is made from yarn spun from single-use recycled plastic bottles! Just because something is sustainable doesn't mean that quality is compromised. The Eco cushions have season-proof technology so they are water-resistant and UV stable.
Maze:
Maze has pledged to minimise their impact on the environment and bring sustainability into its everyday practices. Their products are made with the environment in mind as they choose a selection of materials which can be recycled. Maze is also a 'zero-to-landfill' company, their packaging is made using recycled materials. 
Maze garden furniture is made from durable powder-coated recycled aluminium. Using aluminium means that the furniture is strong but lightweight and easy to move around. One benefit of using recycled aluminium is that it uses 95% less energy than producing aluminium from raw materials.
Their handwoven rattan ranges are made using PE rattan. This material can withstand the elements and has a long life. The durable rattan is environmentally friendly to manufacture and recyclable. Synthetic rattan comes in different weaves such as flat weave and rounded so you have loads of different styles to choose from.
Cane-Line:
For Cane-Line social responsibility and the environment are at the centre of everything they do. Their belief is that designing and manufacturing furniture can work together alongside social responsibility. Therefore minimizing their societal and environmental impact. Cane-Line knows that electricity consumption has a big impact on the environment. In 2013 they reduced their electricity consumption by 50% and have maintained this ever since.
The teak used in Cane-Line furniture is ethically sourced from special forests where the timber is approved and forested under the certification scheme SVLK. This means the trees are forested responsibly, it preserves the natural environment and helps prevent deforestation. 
4 Seasons Outdoor:
4 Seasons Outdoor uses high-quality teak across a variety of garden furniture sets. All of their teak components, such as tabletops, have an FSC or SVLK legal certificate. This means that they only use teak from legal plantations. The trees are suitable for timber extraction after at least 15 years. This ensures that the younger trees convert CO2 into oxygen and the older trees are cut down instead of illegal logging in the jungle.
4 Seasons Outdoor offers premium top quality products. This means that they don't need replacing every year or so. Their products are made to last for many years to come. Not only that but they come with a 10-year manufacturer warranty so you can be assured that your garden furniture will last. Buying furniture that lasts is of course better for the environment and helps keep your carbon footprint lower.
Sustainability is becoming more and more important in everyday life. We want to incorporate sustainability into everything we can. However, it is of course important to have top quality garden furniture. It's good to know that this doesn't have to come at the expense of the environment. Ethical garden furniture looks amazing, is long-lasting and doesn't negatively impact the planet. What more could you ask for?
Further Reading:
Everything You Need To Know About Firepit Tables
How To Use And Light A Pizza Oven
About the Author